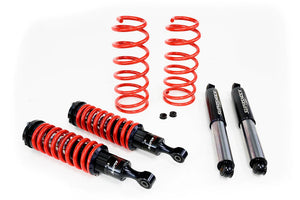 Best Lift Kit Brands
Are you on the lookout for the best lift kit brands?

At Supashock, we've got you covered on everything lift kits.
In this article, we'll cover everything you need to know about how to get the ideal lift kit; from the basics, to picking the perfect lift kit, to finding out why Supashock is the right brand that'll meet your suspension needs.
Let's Talk About The Basics
Before we get started though, we'd better cover the basics. If you know your way around lift kits, feel free to skip to the next section. If you've got some questions on suspension though, we suggest you keep reading.
The thing about lift kits is that they're like any other car mod. You've gotta make sure you know what you're doing, both for your own safety and the sake of your 4x4. That's why it's important to make sure you understand the fundamentals of suspension before you go to the next step.
What is a lift kit?
A lift kit is a mod for your 4x4 consisting of various suspension parts that raise its overall height and ground clearance. This comes with many advantages, such as;
A raised undercarriage is better at avoiding obstacles, so you can drive your 4wd on off-road terrains and avoid damage from debris.

Higher vehicles handle a larger range of terrains; including rivers, steep hills, sand dunes, etc.

They let you use bigger tires, which drastically improves your offroad performance, so you'll be able to drive in any difficult situation.

Your 4wd's higher ground clearance gives you a better view of any obstacles on the road, resulting in a safer driving experience, even on everyday roads.

It helps that there's very little on the road that's more impressive than a lifted 4wd that can handle anything.
What kinds of lift kits are there?
There are many types out there, depending on factors such as the specific model of vehicle as well as how comprehensive you want your suspension set up to be. These can involve a variety of suspension parts, including;
Front springs (coil spring or leaf spring).

Front shock absorbers (coil over or stand alone).

Rear springs (coil spring or leaf spring).

Additional installation parts: Bush kits, greaseable shackles (leaf sprung vehicles) and u-bolts (leaf sprung vehicles).
It's definitely recommended that you speak to a professional if you're looking to lift your vehicle. The Supashock team is here to help - contact us if you need advice on what parts you need to get what you want out of your 4x4 suspension!
What should I look for in a lift kit brand?
There is no "one size fits all" option for lift kit brands. What works for your suspension the most will ultimately depend on why you want to lift your 4x4in the first place.
Some brands of kit emphasise performance; aiding your vehicle with 4x4 driving, carrying heavy loads and touring.

Other brands have lift kits emphasise comfort; maximising your 4x4 experience without compromising the quality of your drive.

Then there are heavy duty brands with lift kits that specialise in helping your vehicle carry heavy loads of gear across all kinds of terrains.
What are the best lift kit brands?
If you're looking for the best lift kit brands; you're in the right place, because the best lift kit brand is Supashock. If you're looking for the perfect balance between an affordable price, unbeatable performance and enhanced longevity, you're not going to find a better lift kit than the ones we stock at Supashock.
Why is Supashock the best lift kit brand?
There are certain criteria that the best lift kit brands should meet in order to provide the best suspension for 4x4s. At Supashock, we don't just meet these criteria – we make sure we exceed them. Below, we're going to list all of the reasons that Supashock is the best lift kit brand.
1. World class suspension, built in Australia
Australia's terrains are some of the harshest on earth and can really put a 4x4 through the ringer. That's why we design, build, manufacture, assemble and test all of our Supashock lift kits here in Australia, so your 4x4 can handle anything thrown at it. The end result is a range of prestige vehicle specific 4x4 lift kits that provide ultimate ride quality and performance. 
2. Tons of benefits for your vehicle
There are a lot of benefits that come with using a suspension lift kit on your 4x4, including;
Greater ground clearance; which makes it easier for you to navigate obstacles and take on tough tracks or harsh terrain

Increased approach, ramp-over and departure angles; meaning your 4x4 can manoeuvre over different obstacles without taking damage

Raising your vehicle's height gives you the option of fitting larger, more durable tyres to your vehicle

Greater suspension travel, which means greater traction and grip when tackling off road terrain

Increased accessibility to the underbody of your vehicle, as well as increased visibility from the cabin
3. Only Supashock delivers the Shell Reservoir System for superior ride control
A particular feature that sets Supashock apart is the Shell Reservoir System, a key part of each Supashock 4x4 damper that consists of a floating piston that separates the pressurised gas and oil inside the shock absorber. This system has the exact benefits of a remote reservoir, but additionally eliminates the risk of damage to external parts like rubber hoses. This system revolutionises how 4x4s handle and ride over extended periods of harsh usage, even on the worst corrugated roads. This system allows for a safer and more comfortable 4x4 driving experience.
4. Supashock deliver more than just lift kits
When you order a lift kit from Supashock, you're receiving a sophisticated lift kit system from a world-class producer of advanced mobility, logistics handling and autonomous systems that control, monitor and improve mobility of defence, autonomous, commercial, automotive and other transport vehicles.
In other words; you're receiving the highest quality suspension technology, as it incorporates design principles from all kinds of important and innovative industries. The end result is an unparalleled driving experience for you. 
What kinds of lift kits can I get at Supashock?
Supashock provides high quality lift kits for a variety of 4x4 ranges, such as the;
However, no matter what lift kit you choose, your 4x4 will get a lift kit that;
Has been designed, manufactured, assembled and tested right here in Australia

Contains the same kinds of innovative and advanced suspension technology used to enhance vehicles in important industries such as defence, mining and motorsports

Is manufactured from durable and high quality materials including aerospace alloys

Has a far superior strength compared to any competitor or OEM products
How can I get a lift kit from Supashock?
Once you decide you want a lift kit from Supashock, we're very easy to get a hold of. You can contact us by;
Not only will we help you find the perfect lift parts for your 4x4, but we will answer any questions you have.
---