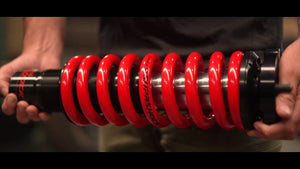 BC Coilovers vs MCA Suspension vs XYZ Coilovers vs Supashock
Number of Vehicle Makes

25

58

18

66

Price Range

$2,999 - $7,499

$1,399 - $3,149

$2,900 - $3,420

$990 - $15,516

Types of Coilovers

Street & Track Series 

4x4 Series

V1 (Entry Level)

BR (Street Driving)

DS (Increased Damping)

RM (BR with Inverted Damper Unit)

ER (Heightened Adjustability)

HM (Advanced Adjustability)

ZR (Racing)

Reds

Pro Drift

Pro Drag

Pro Stance

Pro Sport

Pro Comfort

Voston

Gold Series

Sport

Racing

Rally

Drift

Street

Circuit

Tuned Spring Rates

✔

✔

✔

✔

Adjustable Ride Height

✔

✔

✔

✔

Adjustable Damping

✔

✔

✔

✔

Additional Adjustment Features

Camber Adjustment, Inverted Strut Design, Compression and Rebound Adjustment

Camber Adjustment, Inverted Strut Design, Compression and Rebound Adjustment

Camber Adjustment, Inverted Strut Design

Camber Adjustment, Inverted Strut Design

Google Rating

N/A
Why should I consider the above when selecting a coilover brand?
Considering the following factors when selecting a coilover brand ensures that you make an informed choice that aligns with your vehicle's needs, your budget, and your performance goals:
Number of vehicle makes
The number of vehicle makes directly relates to compatibility. A brand that caters to a broad range of makes and models demonstrates versatility and expertise. It means they likely have products specifically designed for your vehicle, ensuring a better fit and optimised performance. This variety also shows that the brand invests in research and development, increasing the likelihood of producing high-quality coilovers suitable for your car.
Price range
Different brands offer coilovers at various price points, and your budget will play a significant role in your selection. A wider price range may indicate that the brand caters to a broader spectrum of customers, allowing you to find a coilover set that balances your financial constraints with the performance and features you desire. 
Price is also a good indicator of quality. Cheap suspension may be attractive in the short-term, but cause problems in the not-too-distant future due to poor quality and durability. Avoid headaches by choosing a brand that prioritises quality and reliability.
Types of coilovers
The more options available, the better chance you have of finding a coilover type that matches your specific driving style and requirements, whether it's for daily driving, track racing, or off-roading.
Tuned spring rates
Tuned spring rates are a key consideration because they directly impact the ride quality and handling of your vehicle. Brands that offer a range of spring rates or provide guidance on selecting the appropriate spring rates for your application are committed to delivering a suspension setup tailored to your vehicle.
Adjustable ride height
The ability to adjust ride height is important, as it allows you to customise the look and handling of your vehicle. Brands that provide ample adjustment range and ease of adjustment enable you to achieve your desired ride height, whether for aesthetic reasons or for improved handling and optimised performance.
Adjustable damping
Brands that offer adjustable damping provide you with the means to adjust the shock absorber's resistance to compression and rebound, enhancing your vehicle's handling characteristics. Look for brands that offer coilovers with damping adjustment capability to cater to different driving conditions and setup preferences.
Additional adjustment features
Brands that offer additional adjustment features provide extra flexibility in optimising your suspension setup. These features help you achieve specific performance goals or address unique handling issues, making them worth considering when choosing a coilover brand.
Are there other factors that can help me select the right coilovers brand? 
Here are some factors you might want to consider if you are still unsure regarding the brand that has the right coilovers for you;
Build Quality and Materials:

Look for brands that use high-quality materials like stainless steel, aluminium, or chromoly. Well-constructed components and precision engineering contribute to the longevity and performance of the coilovers.

Warranty and Support:

A brand that offers a robust warranty typically has confidence in the durability of its products. Also, consider the availability of customer support and replacement parts in case you need maintenance or repairs.

Brand Reputation:

Established brands with a history of producing quality suspension components are often a safer choice. Research a brand's history, reputation, and whether they have a strong presence in the automotive community.

Compatibility with Other Modifications:

If you've made or plan to make other performance modifications to your vehicle (e.g., bigger wheels, upgraded brakes, engine tuning), ensure that the coilovers are compatible and work well with these modifications.
How can I learn more about coilovers?
You can learn more about coilovers by contacting us at Supashock, which you can do via:
---