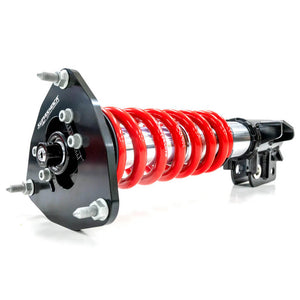 What Type of Suspension do Shell V-Power Racing Team Use?
The car of choice for the Shell V-Power Racing Team is the Ford Mustang GT with the following suspension set up:
Front – Double wishbone suspension with coil over adjustable damper and cockpit adjustable anti roll bar.

Rear – Supercars control independent rear suspension with coil over adjustable rear dampers with cockpit adjustable anti roll bar.
Glossary of terms
Double wishbone suspension
The double wishbone suspension is a type of suspension system commonly used in vehicles. It consists of two wishbone-shaped control arms that are attached to the wheel hub and the vehicle's body or subframe. This design allows for independent control of wheel movement, providing better handling and stability.
Coil-over adjustment damper
Coil over adjustable dampers are shock absorbers that are integrated with a coil spring. They are mounted vertically and are responsible for controlling the vertical movement of the suspension. These dampers can be adjusted to provide different levels of stiffness or damping, allowing drivers to fine-tune the suspension to suit their preferences or driving conditions. The adjustable nature of these dampers enables drivers to optimise their supercar's handling characteristics for various road conditions or track configurations.
Cockpit adjustable anti-roll bar
Cockpit adjustable anti-roll bars are another feature found in supercars' suspension systems. An anti-roll bar, also known as a sway bar or stabiliser bar, is a metal bar that connects the left and right wheels of an axle together. It helps to reduce body roll and improves stability during cornering by transferring weight from the outside wheel to the inside wheel.
The cockpit adjustable feature means that the driver can change the stiffness or effectiveness of the anti-roll bar from the comfort of the driver's seat. This allows for on-the-fly adjustments to fine-tune the handling balance of the car to match the driver's preferences or the specific driving conditions.
Independent rear suspension
Independent rear suspension means that each rear wheel can move independently of the other. This allows for better handling, improved traction, and increased stability during high-speed manoeuvres. By isolating the movement of each wheel, independent rear suspension helps to minimise the effects of bumps, potholes, and other road imperfections, resulting in a smoother and more controlled ride.
Why do Shell V-Power racing cars need advanced suspension systems?
Shell V-Power racing cars, like other high-performance race cars, require advanced suspension systems to meet the demands of racing at high speeds and to optimise their performance on the track. 
Here are a few reasons why advanced suspension systems are essential for Shell V-Power racing cars:
Handling and stability
Racing cars need to navigate corners, curves, and changes in road surfaces at extremely high speeds. An advanced suspension system, such as independent rear suspension, helps to improve handling and stability by allowing each wheel to respond independently to changes in the road. This results in better traction, reduced body roll, and improved overall stability during aggressive manoeuvres.
Performance optimisation
The suspension system plays a crucial role in optimising the performance of a racing car. It affects how the car transfers weight during acceleration, braking, and cornering. 
Advanced suspension components, such as coil-over adjustable dampers and cockpit adjustable anti-roll bars, allow teams to fine-tune the suspension settings to match the specific characteristics of the track and the driver's preferences. This customisation helps achieve optimal grip, responsiveness, and balance, allowing the car to perform at its best.
Impact absorption
Racing tracks can have imperfections, bumps, and undulations that can affect the car's stability and performance. An advanced suspension system helps absorb and minimise the impact of these irregularities, ensuring that the wheels maintain contact with the track surface as much as possible. This allows the tires to maintain traction and grip, preventing loss of control and improving overall performance.
Driver comfort and safety
While the primary focus is on performance, advanced suspension systems also contribute to driver comfort and safety. A well-tuned suspension system helps to reduce the harshness of vibrations, bumps, and impacts, providing a smoother and more controlled ride for the driver. 
This not only improves the overall driving experience but also reduces driver fatigue, allowing them to maintain focus and concentration during long races. Additionally, a properly calibrated suspension system can help prevent wheel hop and improve stability, enhancing driver safety and reducing the risk of accidents.
---