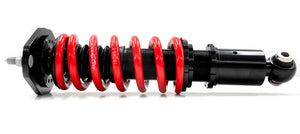 Do Coilovers Make Your Car Bumpy?
When it comes to the question of whether coilovers make your car bumpy, the answer is not a straightforward one. Coilovers can have a significant impact on ride quality. However, it's important to note that coilovers themselves don't inherently make your car bumpy. 
Instead, it's the way they are set up and adjusted that determines the overall ride comfort. By carefully selecting the appropriate spring rates, fine-tuning damping adjustments, and considering other factors such as suspension geometry and road conditions, you can achieve a smooth and controlled ride with coilovers. 
The key lies in finding the right balance between performance and comfort, taking into account your driving preferences and the characteristics of your vehicle. With proper installation and regular maintenance, coilovers can provide a tailored and enjoyable driving experience without compromising on ride quality.
Choosing the Right Coilovers: Enhance Comfort and Performance for a Smoother Drive
Choosing the right coilovers for your vehicle is of utmost importance for several reasons. 
Firstly, coilovers directly impact your car's ride quality, comfort, and handling characteristics. The right coilovers can enhance the overall driving experience, providing a smooth and controlled ride, improved cornering ability, and reduced body roll. 
Secondly, coilovers that are properly matched to your vehicle's weight and intended use ensure optimal suspension performance and longevity. Using ill-fitting or incompatible coilovers can lead to premature wear and damage to other suspension components. 
Additionally, selecting the right coilovers allows you to tailor your vehicle's suspension setup to your specific preferences and driving style, whether you prioritise comfort, performance, or a balance between the two.
Several factors come into play when determining the best coilovers for your vehicle. It's important to consider these factors to ensure compatibility, performance, and an optimal driving experience. Here are the key considerations:
Vehicle type and application
The type of vehicle you have and its intended use play a significant role in coilover selection. Coilovers designed for a specific vehicle type, such as sports cars, sedans, or SUVs, are engineered to provide the best performance and compatibility.
Spring rates
Spring rates determine the stiffness of the coilovers and greatly affect ride comfort and handling characteristics. Consider factors like the weight of your vehicle, desired ride quality, and performance goals when selecting spring rates. Softer springs provide a smoother ride, while stiffer springs offer improved handling and responsiveness.
Damping adjustability
The ability to adjust damping settings allows you to fine-tune the suspension to your preferences and driving style. Consider whether you want the flexibility to adjust compression and rebound damping separately or prefer pre-set damping settings based on the intended use of your vehicle.
Ride height adjustment
Coilovers often offer ride height adjustability, allowing you to customise the vehicle's stance and ground clearance. Consider the desired ride height and the adjustability range provided by the coilovers. Ensure that the adjustment mechanism is user-friendly and provides precise control over the ride height.
Build quality and materials
The build quality and materials used in coilovers can significantly impact their performance and durability. Look for reputable brands that use high-quality components, such as robust shock bodies, corrosion-resistant coatings, and durable seals, to ensure long-lasting performance.
Budget
Coilovers are available at various price points, so it's important to determine your budget. While high-end coilovers often offer advanced features and superior performance, there are also options available at more affordable price ranges that can still provide significant improvements over stock suspension systems.
Reviews and recommendations
Researching and reading reviews from other vehicle owners, enthusiasts, and trusted sources can provide valuable insights into the performance and suitability of specific coilover brands and models. Consider recommendations from individuals with similar vehicles and driving preferences.
Professional guidance
Seeking advice from suspension specialists, mechanics, or experienced enthusiasts can provide expert guidance tailored to your specific vehicle and requirements. They can help navigate the available options, provide personalised recommendations, and ensure a proper installation.
Maintaining Coilovers: Tips for Longevity and Performance of Your Suspension System
By prioritising proper maintenance, you can extend the lifespan of your coilovers, ensuring they continue to provide optimal suspension performance and ride quality over the long term. Here are some tips for maintaining your coilovers:
Regular inspection
Periodically inspect your coilovers for any signs of wear, leaks, or damage. Check for fluid leaks from the shock absorbers and ensure that all components, including adjuster rings and mounting hardware, are in good condition. Look for any excessive play or unusual noises.
Lubrication
Apply lubrication to moving parts as specified by the manufacturer. This includes adjuster rings, damping adjustment knobs, and any other components that require lubrication. Regular lubrication helps prevent corrosion and ensures smooth operation.
Cleaning
Keep your coilovers clean by washing them regularly, especially after driving in harsh or dirty environments. Use a mild soap or specialised suspension cleaner and rinse thoroughly to remove dirt, grime, and road debris that can affect performance and potentially cause premature wear.
Avoid excessive force
When adjusting your coilovers, avoid using excessive force. Follow the manufacturer's instructions and use appropriate tools to prevent over tightening or damaging the adjustment mechanisms. Overloading the adjustment components can lead to premature failure or damage.
Wheel alignment
Ensure that your vehicle's wheel alignment is properly set according to the manufacturer's specifications. Correct alignment helps prevent uneven tire wear and maintains optimal suspension performance.
Regular suspension service
Consider periodic professional suspension servicing to maintain and fine-tune your coilovers. Suspension specialists can inspect and service the components, perform damping adjustments, and address any potential issues before they become major problems.
Road condition awareness
Be mindful of the road conditions you encounter and adjust your driving accordingly. Avoid excessive speed over potholes, speed bumps, or rough terrain that can put excessive stress on your coilovers. By driving cautiously, you can minimise the risk of damage or premature wear.
Follow manufacturer guidelines
Always refer to the specific maintenance guidelines provided by the manufacturer of your coilovers. They may have specific recommendations for lubricants, cleaning agents, service intervals, and other maintenance procedures.
FAQs
How can I tune my coilovers to make sure my ride is smooth?
Tuning your coilovers to ensure a smooth ride involves a combination of adjusting various factors to find the right balance between comfort and performance. Here are some key considerations and steps to help you achieve a smoother driving experience:
Spring rates
The spring rates determine the stiffness of your coilovers and greatly influence ride comfort. If your car feels too harsh or bumpy, consider lowering the spring rates. Softer springs allow for more suspension travel and better absorption of road imperfections, resulting in a smoother ride. However, it's essential to strike a balance to avoid excessive body roll and bottoming out.
Damping adjustment
Coilovers often feature adjustable damping settings, typically in the form of compression and rebound adjustments. These settings control how the suspension reacts to different road conditions. Experimenting with the damping settings allows you to fine-tune the response of your coilovers. Start with a neutral or slightly softer damping setting and gradually increase stiffness if needed. This will help find the optimal damping characteristics for a smooth and controlled ride.
Ride height
Proper ride height adjustment is crucial for both aesthetics and ride quality. Lowering your vehicle too much can result in a harsher ride due to reduced suspension travel. It's important to follow the manufacturer's guidelines and adjust the ride height within the recommended range. By maintaining a suitable ride height, you allow the suspension to work optimally, enhancing comfort and minimising the chances of encountering a bumpy ride.
Alignment
Correct wheel alignment plays a significant role in ride quality. Improper alignment can cause uneven tire wear and negatively impact ride comfort. Ensure that your vehicle's alignment is properly adjusted, including camber, caster, and toe settings. This will promote even tire contact with the road surface, enhancing stability and reducing vibrations.
Regular maintenance
To maintain optimal performance and ride quality, it's essential to regularly inspect and maintain your coilovers. Ensure that all components are in good condition, and check for any signs of wear or leaks. Regularly lubricate moving parts, such as adjuster rings and dampers, as specified by the manufacturer. By keeping your coilovers well-maintained, you can prolong their lifespan and preserve a smooth ride.
What is a bumpy ride a sign of? 
A bumpy ride can indicate worn-out or damaged shock absorbers, affecting their ability to absorb bumps and vibrations effectively. However, it can also be an indication of;
Improper suspension alignment, including camber, caster, or toe, can cause uneven tire wear and contribute to a rough and bumpy ride.
Insufficient or excessive tire pressure can lead to a bumpy ride, with underinflated tires causing excessive flexing and overinflated tires transmitting more road imperfections.
Worn bushings or suspension components, such as control arm bushings or ball joints, can introduce excessive play and contribute to a bumpy ride.
Mismatched or incompatible suspension components, such as mismatched springs and dampers, can result in an unbalanced setup and a rough and unpredictable ride.
Poor road conditions, such as potholes or uneven surfaces, can cause a bumpy ride regardless of the suspension system's condition, necessitating cautious driving.
---